History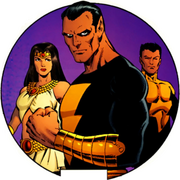 Origin
Formed upon the conversion of Black Adam back to a hero and the creation of Isis and Osiris as superheroes. Similar to the Marvel Family concept with former villain Black Adam as the head of the family. The family was introduced in the pages of the weekly DC comic book 52.
Black Marvel Family Members
Current
Former
Equipment
Weapons
Transportation
Allies
Enemies
See Also
Links
Ad blocker interference detected!
Wikia is a free-to-use site that makes money from advertising. We have a modified experience for viewers using ad blockers

Wikia is not accessible if you've made further modifications. Remove the custom ad blocker rule(s) and the page will load as expected.